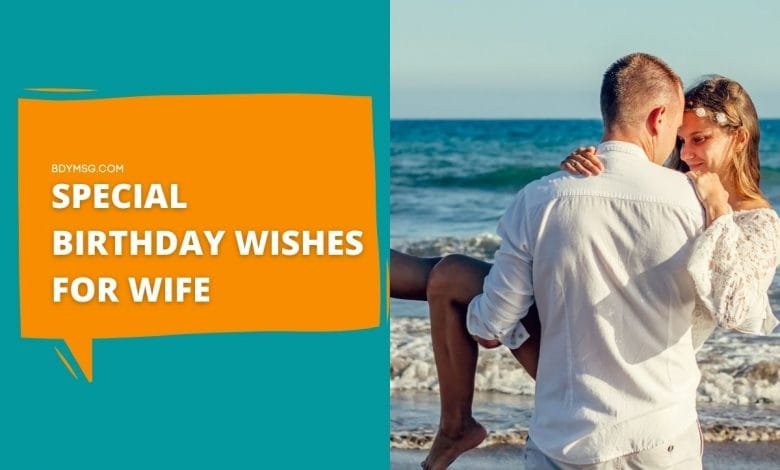 Special Birthday Wishes For Wife
Days may come and go. But our love and respect for each other will certainly be rock solid and none of the forces of the universe can alter it. Happy birthday to you, my gorgeous wife!
You're the most wonderful woman in the world to me. You are and will always be – the special girl! Happy birthday!
Loving you is a privilege, knowing you is a blessing, being with you is a wish come true. Much love on your birthday.
Every year on your birthday, I am only reminded of the fact that on this day, my soulmate came into the world. Happy birthday.
If you ever wonder what I love the most about you, it is the fact that I never have to drop you off at your house after an amazing date because the two of us have a home and a beautiful life together. I just wanted to wish you the very best on your birthday.
To the wonderful lady who made me warm up to rom-com marathons, Sunday brunches, and the importance of facial masks, I wish you a very happy birthday and a long life by my side.
When I look at you, I still see the charming and beautiful woman I fell for. It is my greatest desire that we spend our lives together doing everything we have always dreamed of. Happy birthday, my love.
I want to make you a promise on this special day of yours. I will never tire of doing everything in my power to make all your dreams come true. Happy birthday.
I am only a good man and husband because I have you for a wife and partner. I really don't know what I would do without you. Happy birthday, dear wife.
I was quite content with my life before I met you, but when you came along, everything changed for the better. Happy birthday.
You have a way of making me fall head over heels in love with you each and every day. I love how strong, brave, and giving you are. Happy birthday, my sweet.
You gave me beautiful children and turned our house into a home. You are what dreams are made of. Happy birthday.
Thank you, my love, for working as hard as you do to make sure that all of us are content and happy every single day. I love you! Happy birthday.
You are my light and my love; the guardian angel that is always by my side. Happy birthday, sweetheart.
You are absolutely breathtaking, and there is nobody in the world that will ever be able to replace you. I love you, now and forever. Happy birthday.
The way you care for our children, the way you are kind to others and the way you make me feel every day shows how lucky I am. Happy birthday.
Hey birthday girl, though it's your birthday, you are the gift that I get to unwrap every day of my life; and today is no exception. I love you. Happy birthday.
You, my dear, are the most amazing wife and mother there ever was, and nobody can ever take your place. Happy birthday.
Over these years, my love for you has become stronger, and it will never go away. Happy birthday.
You bring the ultimate loyalty and strength to my life. Thank you for being the queen of my castle, my partner and the love of my life. Happy birthday!
I am brimming with pride for having a woman as courageous, strong and wise as you by my side. Happy birthday.
My mind and body may decay with each passing year, but my love for you only grows stronger. Happy birthday.
The treasure hunters in the world are so terribly misinformed because I have the world's greatest treasure by my side. Happy birthday.
As we grow old together, we will change. But one thing will stay the same and that is our love, the glue that holds us together. Happy birthday!
I love your smile, I love your touch, I love your stares, I love your body, I love you! You are simply irresistible. Happy birthday, to my wife!
Happy birthday, my love! A thousand words won't be able to describe your shinning beauty, a thousand words won't be able to express what is in my heart.
My goal is to keep a smile on your face. And when it starts to fade away, I'll do whatever it takes to brighten your day. Happy birthday.
Most people read quotes to find the true meaning of life, but all I need to do is to look into your eyes. Happy birthday my dear wife!
The best part of our relationship is that the memories of bitter fights have been overshadowed by those of making up after. Happy birthday!
There may be hundreds of ways to wish you a happy birthday, but the best one is to give you a hug and whisper sweet nothings as we sway to love's tango. Happy birthday!
Your birthday cake is symbolic of how your sweetness makes my life's bitter moments worth tolerating. Happy birthday.
Poets and painters express my feelings best. My poor self can only say, "Happy birthday my love.
On your birthday I want to make a promise that I will not tire, until I fulfill all your wishes and desires. Happy birthday!
You are the sweetest thing in the world and you know how I cannot resist sweet things. Happy birthday, my dear.
A birthday is incomplete without a toast, and here's mine for you – as a mother, you're the sweetest; as a woman, you're the prettiest; as a wife, you're the best. Happy birthday!
Marrying someone you love is a matter of fortune, they say. No wonder I'm the most fortunate because I got to marry my lovely Best Friend! Birthday wishes to you!!
Love is the greatest feeling in the world. And I'm living this feeling every single day. Thank you for being you. Happy Birthday!
God has been kind enough to bless me with you, the most perfect woman in the world! I wish you an Amazing Birthday, Love!
When you're next to me, I feel I can conquer the world. Happy Birthday, Queen! God bless you!
You're one of the most pure-hearted people ever. And that makes me fall for you even more. Love you too much, Happy Birthday!
You're not just my best friend, but also my source of strength. I love you so much! Happy Birthday, Babe!
A marriage is like a lifetime subscription of endless debates, disagreements, crazy high-lows, with a whole lot of love. Happy to get into it with someone like you. Wishing you a Beautiful Birthday!
No matter how many books I read, I never really understood what true love meant. Now that I'm married to the Most Amazing Woman in the World, I cherish every moment of being in love. Happy Birthday, Angel!
You are the only reason why I breathe, you are the best thing in my life. I love you so much. Happy birthday!
I promise to endeavor to make you smile daily because you fill my heart with indescribable happiness. I hope we have a lifetime of laughter my love. Happy birthday!
Happy birthday to my gorgeous wife. Even after all these years, I can't wait for you to blow out all your candles so I can be alone in the dark with you.
It doesn't matter where our journey in life takes us, so long as we are together. Happy birthday to a wife who is as unforgettable as she is utterly lovable.
It doesn't matter where our journey in life takes us, so long as we are together. Happy birthday to a wife who is as unforgettable as she is utterly lovable.
All the riches in the world are useless without you and your love. Happy birthday to the diamond of my life.
There are wives, and then there is you. You're truly unmatched. And I appreciate you every day! Wishing you a very Happy Birthday!
Your liveliness & optimism encourages me to look at the brighter side of everything! Happy Birthday, Sunshine!
Happy Birthday, Gorgeous! You're my favorite hello and hardest goodbye. I can't wait to be back and spend a whole lot of time with you!
You're a girl with a Golden Heart. May your life be as golden as your compassionate soul. Happy Birthday, the Centre of my Universe!
You truly are the answer to my prayers. And there's no better day than this to express it to you. Wishing you a Fabulous Birthday!
I can't thank you enough to be in my life. You're a perfect companion who has been through it all, with a smile. I appreciate you so much! Wishing you a Fabulous Birthday!Happy Birthday, Partner! You're just like sugar; sweetening my life every day.
Just saying, excess of sugar isn't that good for health.
You're the best woman in the world… Right after my mom. Happy Birthday, Sweetheart!
Happy Birthday to my master chef, nutritionist, dietician, gym instructor, stylist, caretaker, friend, and finally, Wife. Clearly, you're my everything! May you keep being the wonder that you are!
Good morning, Wifey! A fabulous birthday party is happening tonight, so you better start getting ready right now! So that for once, you're ready on time. Happy Birthday, love!
Happy Birthday, Darling! Now that you've married the most perfect man ever; you don't really need any other gift!
How do you write a beautiful birthday message?
1. "I'm so grateful you came into the world because you make my world better every day. Happy Birthday, Baby." 2. "Thanks for you being you and being mine." 3. "It's your day, and I can't wait to celebrate it with you." 4. "I hope your birthday is the happiest." 5. "Happy Birthday, Beautiful." 6. "Wish you were here for me to spoil today."
How do you say happy birthday to a special person?
1. "It's your special day — get out there and celebrate!" 2. "Wishing you the biggest slice of happy today." 3. "I hope your celebration gives you many happy memories!" 4. "Our age is merely the number of years the world has been enjoying us!" 5. "Enjoy your special day." 6. "Have the best birthday ever!" 7. "Wherever the year ahead takes you, I hope it's happy." 8. "The day is all yours — have fun!" 9. "Happy birthday to my ride or die. Love you bunches!"
A healthy, loving, and fun-filled relationship with your partner can make your life a million folds easier. With someone you love and who loves you back, happiness is multiplies, giggles are tummy-aching and problems just get solved in a click. So if you have got a wife like this, treasure her.
To celebrate your birthday, be sure to visit our website for more birthday wishes for any occasion!
Join us on Pinterest